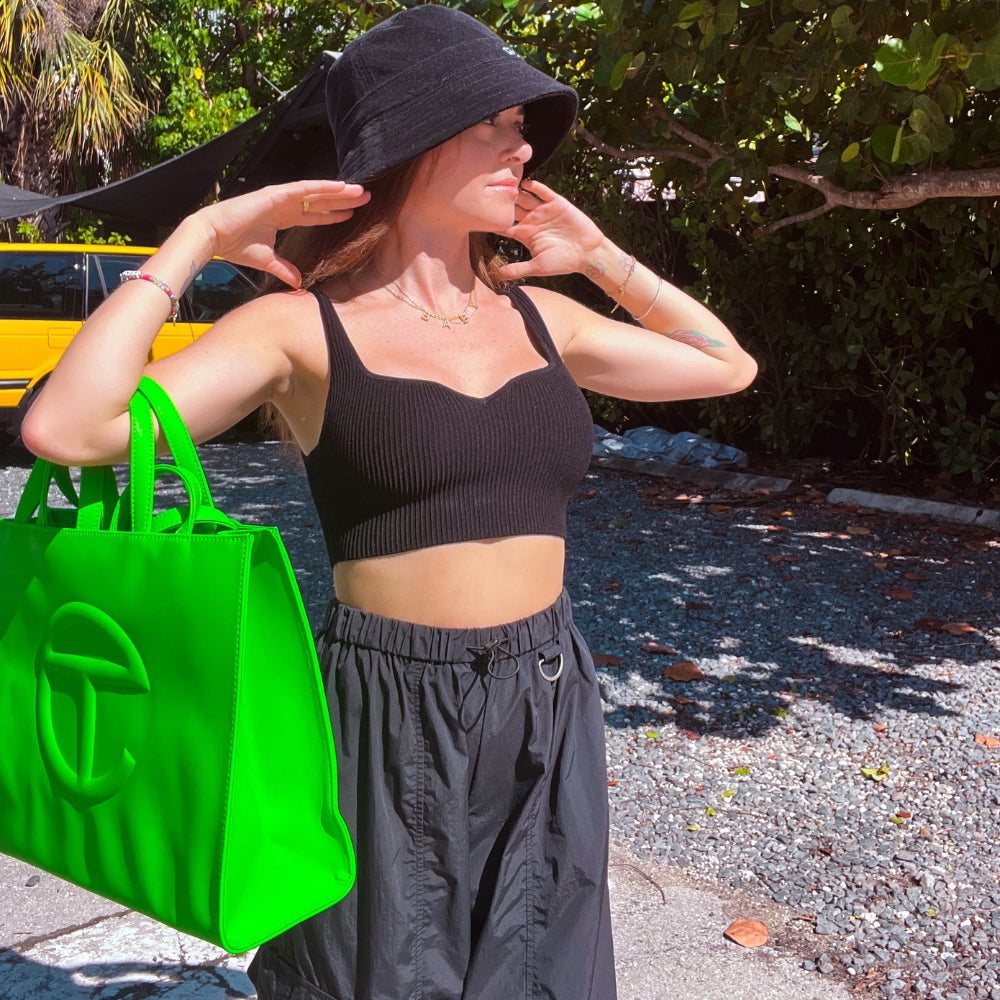 Cargo Pants and me, a love story
I will always wear this street-style look whether the cargo pant trend stays or goes. Why? I am a big sweatpants girl (I have even designed my own before) and love garments that allow me to move freely. Cargo pants make me feel sexy, confident, and edgy. Not to mention, they are highly versatile and can be styled in all different ways. This article contains 5 ways to wear cargo pants, and I've even included some links to my shop, my favorite pairs. You can thank me later!
1.Cargo pants + oversized tees simply make sense
You can't go wrong with this pair, especially for a daytime look. Add a baseball cap and rock this masculine outfit if your hair is messy. This is one of my favorite outfits because it is comfortable and always in style. 
Tips for finding oversized graphic tees: Search the boy's section at Marshall's. I recently purchased some graphic tees there for 7.99 each! Shopping at your local Goodwill or thrift store is also always a good idea. You may have to really look, but it's better for the planet (and usually your wallet) to shop second-hand. 
Other styling tips for this look: keep makeup natural, add a few stackable rings, maybe a beaded bracelet, and of course a nylon Prada bag. 
2. Cargo pants + "going out" tops
I love the masculine and feminine balance of combining cargo pants with tight, occasion tops. I particularly love the way cargo pants look with corsets. I also love pairing cargo pants with a sequin top, which are really popular right now, and also halter tops. When going out in your cargo pants, I love a good heel to top off the look. 
My favorite corsets to compliment cargo pants: Rite now I am loving Miaou corsets, found on Revolve. Other brands that make a pretty corset are Guizo, BY.DYLN, and Bardot (also found on Revolve).
3. Cargo pants, tank top, and bucket hat
Bucket hats have become an essential accessory in my wardrobe. As I get older, I am trying not to get as much sun on my face, so the bucket hat has become quite a staple for me. I like that they are also on the masculine side, like cargo pants. Paired with a tight and flattering tank top and your favorite pair of sneakers, you cannot go wrong with this look for the daytime. 
Another fantastic accessory to pair with your cargo pants is the infamous unisex Telfar bag. Made of vegan leather, this bag is super cool for anyone to use and comes in a variety of fun colors to give your outfit a POP. 
4. Cargo pants and faux fur
Heading into the colder temps, you can pair your favorite cargo pants with an oversized faux fur jacket (pro tip: say no to real animal fur). As seen here, I paired a white faux fur jacket with black cargo pants and a black sweater. My accessories include a nylon Prada bag and a furry bucket hat. To finish the look, New Balance runners. I like the way the slim profile of a New Balance runner looks with flowy cargo pants. 
5. For the artsy soul
First of all, I told you I loved bucket hats and cargo pants together, LOL. But secondly, if you haven't jumped on the flower cardigan trend yet then this is your sign to take the leap. If a whimsical floral cardigan isn't your vibe, try pairing any buttoned cardigan with your cargo pants. This look is fun in color, so try exploring outside of black or gray and play with a colored pair of cargo pants like my blue ones seen here or even purple or pink! 
Leave a comment