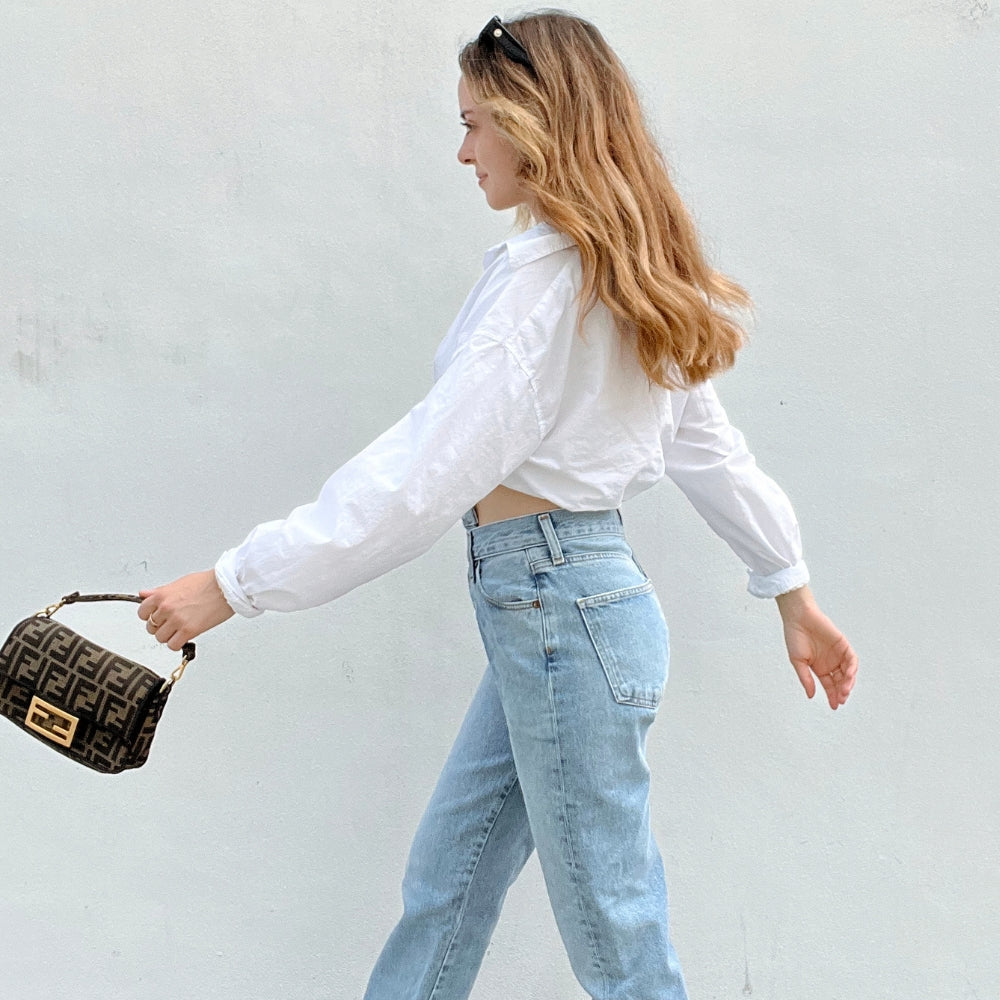 Initially created as a casual workwear option, denim silhouettes of all kinds have become the staple items in our wardrobes. There's nothing better than rocking a denim pair of jeans that you feel comfortable and confident in, paired with a white tee and your favorite handbag. The only "problem" with denim is that finding the right pair can be a headache and a half. Luckily for you, I put together a list of some of my favorite denim brands for the year 2023. Below you will find my denim cost codes. Whatever price range the average pair of jeans from that brand falls into will determine the amount of "$" signs in the brand description. Happy Shopping!
0-100.00 = $
100 to 200.00 = $$
200 to 300.00 = $$$
300 to 500.00 = $$$$
500.00 and over = $$$$$
My Favorite Denim Brands of 2023
1. Moussy Vintage
I discovered this brand recently and quickly fell in love with the wide-leg pair I purchased. The quality is AMAZING (as it should be for the price), and the fit is so flattering. I don't usually pay a premium price for denim; however, it is not the wrong area to invest in. A good denim look is always in style. Yes, different cuts and styles will go in and out of "trend," but when wearing denim, the only thing that matters is that they fit you well and you feel confident in them. I recommend this brand if you want to invest in a premium pair of denim. For me, they fit pretty accurately to size, but if anything, they are a tad on the larger size. 
$$$$
2. Abercrombie
In recent years, Abercrombie has made a significant comeback, prominent in part due to their incredible line of denim. Their denim range offers various sizes and lengths, which I appreciate because I am 5 foot 1 (no more expensive denim hemming). Abercrombie also offers stylish cuts, and I have loved EVERY pair I have tried. The only downfall is that popular styles tend to sell out fast, so when you see a pair you like, grab them ASAP. If you are having trouble figuring out if you fit better in curve love or not or which waist size you need, then I would just pop in the store to try some on before you invest. I think they fit pretty true to size, but let me know if that is not true for you!
$
3. Agolde
If you want a high-quality pair of stylish denim without hitting the 300.00 mark, than Agolde is a great brand to check out. I have a pair of blue jeans, seen here, that I wear religiously by them and also a pair of black denim shorts that I love. I wear the jeans constantly, and they are a few years old now, yet they still look brand new. It might be hard to find your size at first (I personally think they run a tad large), but once you do you will fall in love. 
$$$
4. We the Free by Free People
We the Free, a brand by Free People, makes AWESOME denim overalls. I have two pairs of them because I am so obsessed with them. They are comfortable, high quality, and offered at a reasonable price. If you don't have a pair of denim overalls, I recommend investing in a pair ASAP. They are so versatile, comfortable, and cute. In the summer, you can wear a short sleeve shirt underneath, and in the winter, they look adorable worn over a turtleneck. Aside from their overalls, We the Free offers various denim styles that are on trend and fit well, and true to size. 
$$
5. Pistola
If you have yet to hear of Pistola denim, you are missing out. They offer classic denim styles with excellent quality at an affordable price. This spring, I purchased their denim maxi skirt, which is still available, BTW, and I absolutely fell in love. I cannot tell you how many compliments I have received on it! Their styles remind me somewhat of Agolde but at a lower price. I feel like they fit pretty true to size so you should not have an issue with sizing.
$$
6. Prada
They are not currently in my closet but will be! The amazing Prada overall. (We love a mid-blog manifest). If you haven't checked out Prada's classic and cool denim styles, go check them out. I came across their denim at their store in Florence and had to take a picture because it is too pretty. Like I said earlier, denim is an entirely safe area to invest in as it is ALWAYS in style and cool to wear. Especially if it is Prada denim you are wearing. So if you are nearing a birthday or just recently received a promotion, consider investing in an ultra-cool denim piece by Prada that probably none of your friends will have. 
$$$$$
Denim Brands I Want To Try
Aside from the brands above, here are some denim brands that I would still like to try and haven't yet in 2023: 
Y Project: Ultra trendy styles you will stand out in.

$$$$$

American Eagle: I used to wear AE denim and loved the fit. I haven't shopped there in a while, but I would like to check out their current range.

$

Good American: I love the inclusivity this brand offers and the variety of styles. I have heard good things about this brand and want to try a few styles. I bought my stepmom a pair of their faux leather pants and they fit her great. Their pieces are also pretty affordable, thanks, Khloe!  

$$

Reformation: I love the sustainability mission that makes up this brand. I have worn other clothing pieces from them and love them so I am interested in trying out their denim range.

$$
I hope this denim guide helps you find your new favorite pair of jeans! The first 5 brands I listed are truly brands I wear and love, as the photos in this article are all mine. Let's continue the denim conversation so we can all live in denim heaven! Comment your favorite denim brand and or style below. I can't wait to hear the responses to this! 
XX B
Leave a comment