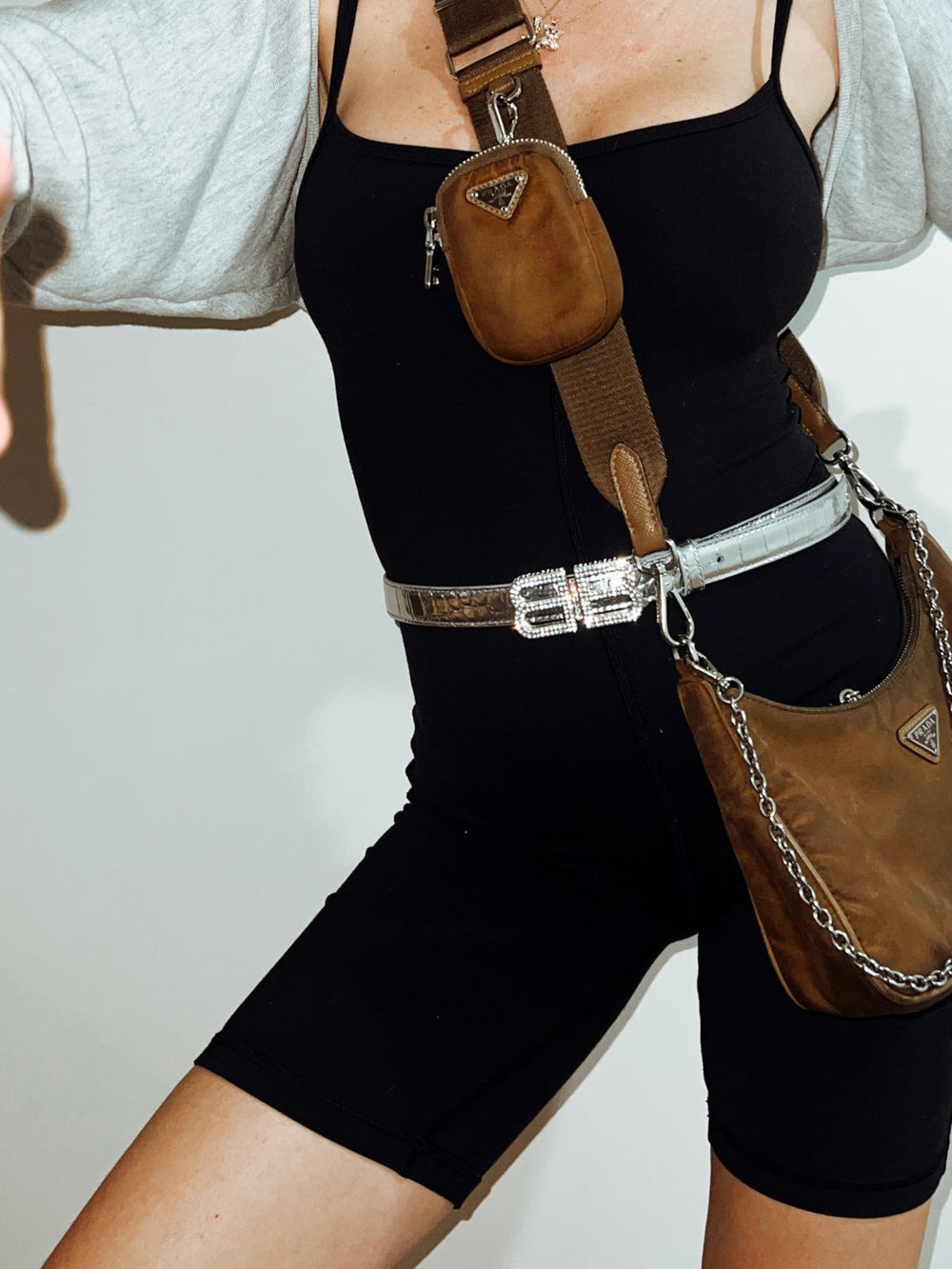 Movement is Medicine
Whether it's a pilates class or a nice long walk, daily movement is an important part of my life. Being that I like to move in style, I am constantly trying to find the best activewear a fashion girl can wear. This article contains some of my favorite activewear pieces and brands as well as the online workouts I cannot live without. Enjoy, and don't forget, you are never too old to get moving!
1. The Romper
Everyone needs a body contouring romper in their activewear collection. Why? They are versatile, all-in-one, and highly comfortable. Of course, they are annoying when you have to go to the bathroom, but other than that, we love a romper.
How to style: Add a belt to elevate the look while moving from the studio to the streets. If the romper is sleeveless, try adding a shrug or zip-up to layer over in case you are like me and are always cold! On my activewear days, I love using a nylon Prada bag as they elevate the look but are still casual and cool.
My favorite romper, pictured here, is from Aritzia. They have a very classic and body-enhancing line of activewear. Their pieces can be a bit pricey, so I am linking a similar style from Amazon; that way, you can try this trend without investing too much money it in.
2. Set for success
I am very particular about my activewear matching when wearing a two-piece set. I like how cohesive a monochromatic look is in the studio.  Also, activewear sets are a great way to try out colors you may want to bring into your fashion wardrobe. 
The set pictured here has a ribbing detail that hugs your body nicely. I also like when leggings are cut with a V-front or high-waisted as it creates an hourglass illusion on my short torso. 
Favorite brands for activewear sets: Year of Ours (pictured here), Alo Yoga, Joja, Live the Process, FP Movement
Other brands I want to try: Set active, Varley, Port De Bras, Heros 
Wearable weights: Also seen here are my bala wearable weights. These are a must-have for those who like to walk (like myself) or workout at home (also like myself). 
3. Flirt with a skirt
I know it may seem weird to have a skirt in your activewear wardrobe, but I am pretty obsessed. They are flirty, fun, and functional, usually made with attached shorts. The look pictured here is great for working from home, working out, and then hitting the town. 
How to style: Pair your active skirt with a white button-up, bra, high socks, and a fun pair of sneakers. 
Favorite activewear skirt: Alo Yoga Varsity Tennis Skirt
Sneakers: This pair is by APL. I love their sneakers because they are comfortable, stylish and come in a variety of colors
Sneakers I want to try: HOAKA, On Cloud
Other ways to wear this skirt: Pair with an oversized t-shirt or sweatshirt
4. Get Moving
Now that you have amped up your activewear collection, it's time to get moving. Here are my favorite online classes that have transformed my body from the comfort of my home! 
The Pilates class: I love their Pilates workouts and how you can filter their classes by length. The videos are high-quality, and they even have fantastic playlists you can pair with the workouts. 
Brooke Burke Body: Actress Brooke Burke has dynamic and energizing workout classes available on her app and website. She is excellent at burning fat and offers workouts of different lengths and styles. 
Free on Youtube: A budget-friendly and equally as effective way to work out is taking free classes on Youtube. Some of my favorite classes are Pilates by Move with Nicole and Barre by Action Jacquelyn. Remember to tip your instructors if the option is available; I know they will appreciate it! 
Remember, you can start moving at any point in your life. Consistency is key; I promise your body and mind will thank you for it. You have got this! XX Bri
1 comment
Love all these activewear outfits! ALO is one of my favorites.. love the pink 💖
Rose Pellegrini Terlizzi
July 25, 2023
Leave a comment