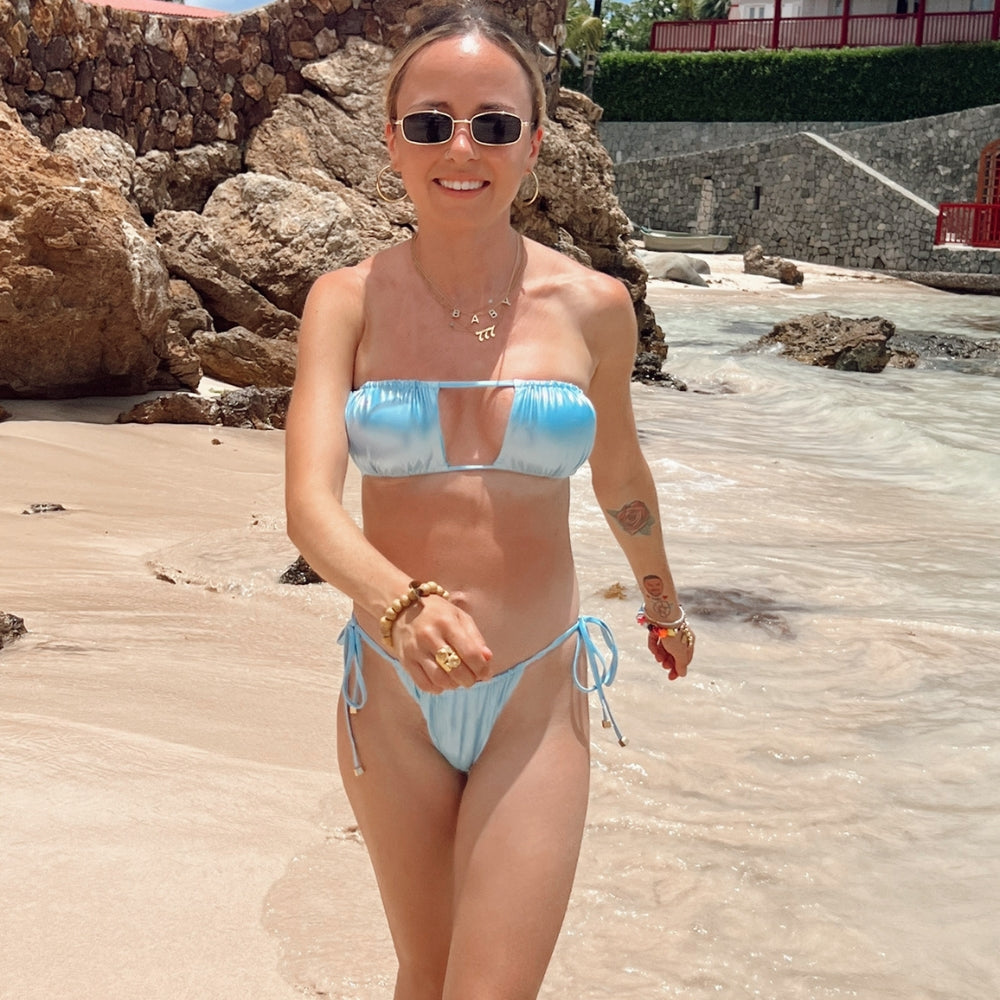 Take a dip
I'm a July baby (my birthday is July 9th to be exact), and I think that is what made me obsessed with swimwear from a very young age. As a kid, I would often have pool parties for my birthday and my mom would buy me new swimwear for it! I was always so excited to pick out a fabulous new bikini! Fast forward quite a few years, and I am still a swimwear junkie. In this article, I have included some of my favorite swimwear brands and where you can buy them! 
1.Monday Swimwear
Founded by two women, Natasha Oakley, and Devin Brugman, I am a big fan of this timeless swimwear brand. Their pieces are high quality, and the variety of size offerings allows me to purchase pieces that fit me like a glove. I also like that you can purchase the same styles in a variety of colors. Additionally, I really appreciate their brand messaging, which is incredibly body positive. Most of my swimwear collection consists of Monday Swimwear. 
Favorite Monday Styles: Maui top, Antigua bottom, St. Martinique Bandeau, Vera one piece, Capri top, Argentina bottom, Montego mini dress
Sign up for emails to get 10% off your first order.
2. Analina Woman
When feeling extra glamorous and sexy, I opt for my swimwear by Analina Woman. Her styles are unique and cut in an ultra-trendy way. The fabrications used are so soft and luxurious, worth the price you will pay for a piece from this designer swimwear brand. I also like that it is not mass-produced, allowing me to stand out in the crowd. The swimwear cover ups they offer are just as fabulous, perfect for a European getaway. I can't wait to see what styles this label creates next! 
Favorite Analina Styles: Ruched bikini top, ruched bikini bottom, Grace on piece, mesh skirt, showstopper bikini top, showstopper bikini bottom
3. Isa Boulder
A combination of artistic and futuristic, Isa Boulder is a label providing high-quality swimwear and fashion made by a small group of women. This label first caught my eye with its ultra-feminine satin underwired bikini tops. I love the way an underwire enhances your breasts, celebrating the body in the most beautiful way. Made in Bali, this line is also not mass-produced because it's always nice to be wearing something that not everybody on Tik Tok is. 
Favorite Isa Boulder Styles: Spiral weave bikini top, Cable knot bikini briefs, Jessie ruched bikini briefs, rope reversible bikini top, twisted waistband bikini bottoms, weave string bikini bottoms
4. Inamorata
Founded by Emily Ratajkowski and Kat Mendenhall, Inamorata is a swimwear and fashion label with trendy and versatile pieces. Their swimwear styles come in various colors and prints, and I LOVE that there are matching cover-ups, creating your perfect summer set. I see a lot of vintage inspiration in the prints, using vibrant color combinations that are fun for the summertime. I wore their butterfly-printed cover-up over one of their deep blue bikinis last summer in St.Barts, and I cannot tell you how many compliments I received on the total look. 
Favorite Inamorata Styles: Butterfly Beachwood pants, Olive zebra Wilcox button-up, Luciana top, Luciana bottom, Las Olas bottoms, Gata top, Bolero, Bambi baby tee
5. Vitamin A
Vitamin A swimwear has been one of my go-to brands for high-quality and comfortable styles for many years. Their silhouettes are classic, and their styles offer more coverage than many swimwear brands today (for when you want to cover your bum)! I have had my Vitamin A styles for about 6 or 7 years now, and they are still in excellent condition. Beyond swimwear, they make clothing and coverups as well. I appreciate the natural materials they use and will continue to invest in this super chic brand! 
Favorite Vitamin A Styles: Lolita bottom, Skylar top, Sol wrap top, Gemma ruched crop top, Alia one piece, Rossi halter underwire top, Emmi high waist bottom, Leah one piece
1 comment
All so nice and different… you look great in them all!
Rose Pellegrini Terlizzi
July 25, 2023
Leave a comment