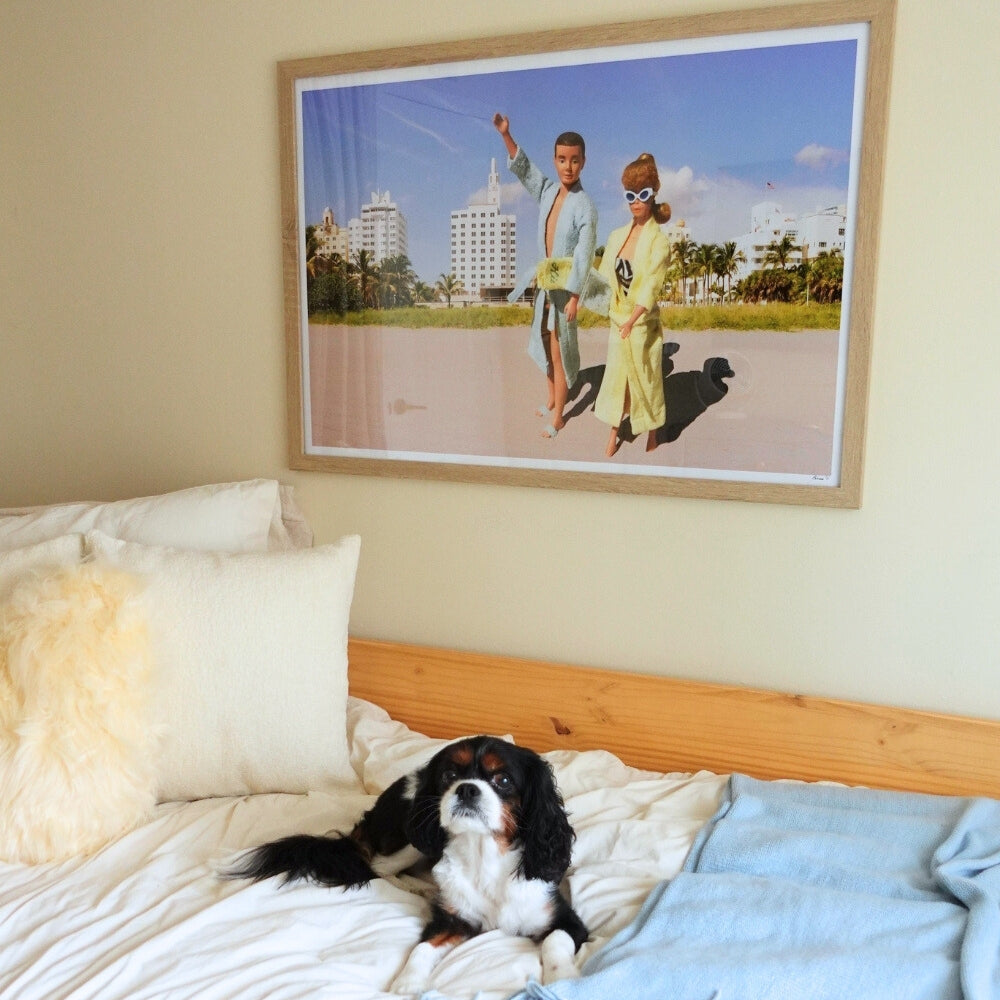 Barbie bedroom on a budget
In my Miami Beach condo, I have a tiny second bedroom that I plan to use as a guest room (although my dog Brooklyn claimed it as hers LOL). Before purchasing this condo, I started collecting vintage Barbie and Ken photos from this fabulous artist, which I will reveal later. I decided that the photos would be the main talking point of the room and use them as inspiration to create a happy and fun guest room in my tiny beach condo. I didn't invest a ton of money in this room as it is very small and didn't require too much furniture or design. Scroll down to reveal before-and-after photos as well as shopping links to purchase the pieces in this room. Enjoy and happy decorating! 
1. Barbie Bedroom Design Before
Let the project begin! The first thing I did when I started to fix up the guest room was install a closet. After all, it wouldn't be a Barbie bedroom without one! Sometimes, a space is only considered a bedroom with a closet, but that is case by case. My dad taught me how to build this closet and the built-in desk you will see later in this post. Of course, the desk is for Barbie to keep up with her many careers or will allow my guest to work from home!
As you can see, the colors on the walls were a very stark white, but my goal for this room and the house overall was to add warmth that would feel cozy with the Florida sunshine. Since the cool-toned white wasn't right, we repainted the room to Navajo White by Sherwin Williams. It's creamy and warm, which is just what I wanted. Since my condo is small, I decided to carry this color throughout the whole home, besides the guest bathroom, which you will see in another post. As for the floors, entire upstairs of my condo had a beautiful terrazzo floor from the original build that I decided to keep. Not replacing the floors kept my budget on track for this space. 
Click the button below to learn more about the Navajo White paint color. 
2. Barbie Bedroom Design Reveal
I told you Brooklyn claimed the room! As I mentioned earlier, the room is relatively small. I wanted to sleep two people in it and originally wanted to build bunk beds. I may still do this in the future, but for now, I installed this lovely trundle bed from Wayfair. I Opted for bedding that matches the walls, keeping the space neutral and warm so the art can POP! The sheets are made of a t-shirt jersey material and are super soft. Those are my favorite sheets; now, I cannot use any other kind! They are linked on the home board of my Amazon storefront. I love the hints of blues; it makes the space feel calm and like a little piece of the beach.  
The art above the bed is one of four vintage Barbie and Ken photos I have in this space. In the photo above the bed, Barbie and Ken are walking along the beach in Miami, which is so on-brand for this space! Frames can be expensive, but I found this one that came in a pack of 2 for a great price on Amazon. I like that the photo covering is plastic and not glass since it hangs over a bed. 
3. Beach Chair Wall Art
Opposite the bed is the TV, dresser, and desk wall. Next to the dresser, I had this idea to purchase gold hardware and hang a beach chair on the wall. A beautiful beach chair, I may add. Let's be real, it had to be really pretty in order to hang it on the wall! To be honest, it was not the cheapest beach chair, but it really is amazing quality and comes with features like a detachable pillow, pockets, and back straps. I absolutely the outcome, and I feel like it plays off of the Barbie "toyetic" feature always present in the Barbie dream house. Another feature that was perfect for the Barbie bedroom is the tiny retro-style fan. It is just too cute! 
4. Barbie Bedroom Dresser
Regarding the dresser, I didn't want anything too large to overpower the space. I found this adorable gray dresser with natural wood details on Amazon for a great price! I adorned the dresser with a pretty gold tray for jewelry and a vase of dried flowers from my friend Marissa. Of course, above the dresser is a nice size TV for my guests (AKA my mom because she loves her night time shows)! 
Next to the Dresser, you can see the desk and shelves that I built with my dad. Along that wall are the other three Barbie photos, a "Barbie Movie" doll, and a little mirror to do your makeup in. I added a round felt-covered stool from the lifestyle website Cest Beau for seating. 
5. More Barbie Bedroom Toyetic Features
It wouldn't be a Barbie bedroom without another toyetic feature. Next to the desk, I installed a "Ring for Pool Boy" bell (which really rings, BTW). The bell is by an excellent designer that I will link below. That feature tops the cake for this Barbie Beach Cabana-inspired guest room. 
Other details in this Barbie bedroom include a shell chandelier and velvet curtains for closet doors. Like the rest of my home, you will notice the presence of all gold hardware (even the electrical outlet covers). Those small details always bring a room together and make things extra special. And so, this Barbie Bedroom isn't hot pink and kitschy but instead more of a "soft girl era" meets Barbie bedroom. Let me know what you think in the comments below! 
XX Bri (and Brooklyn).