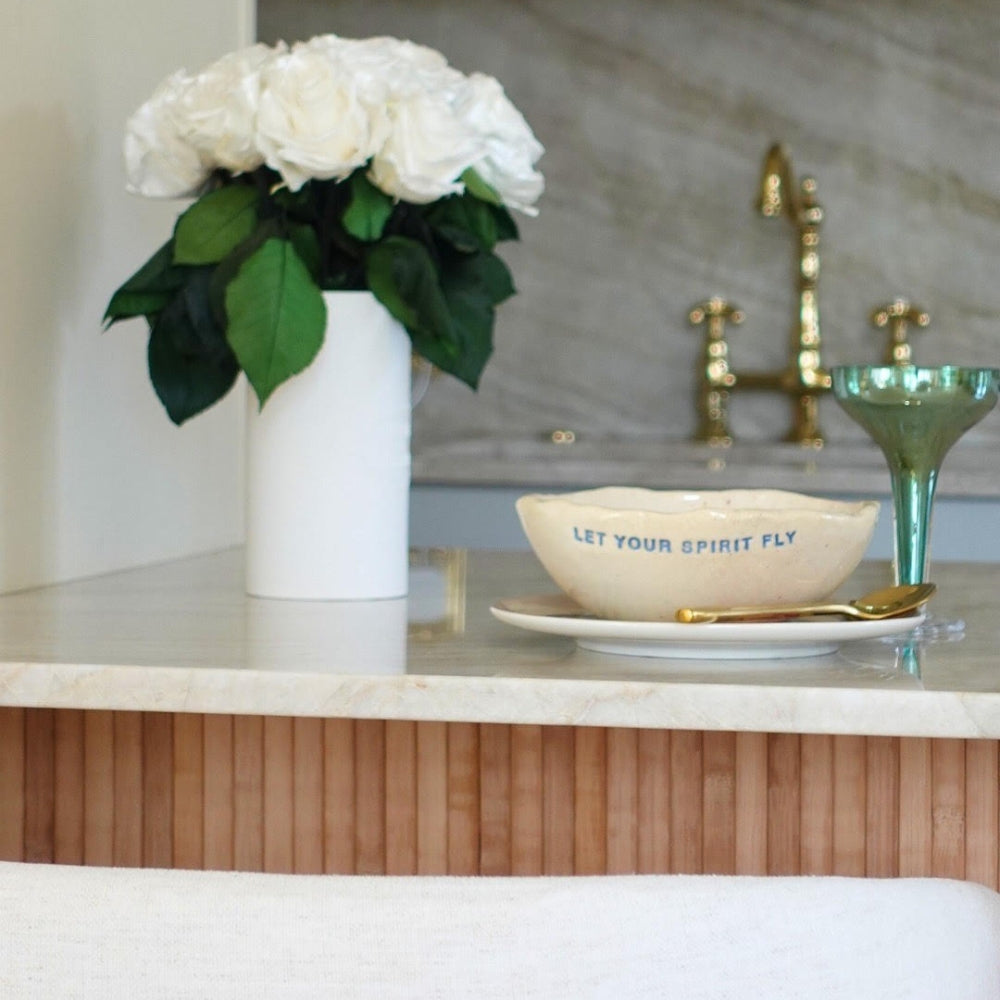 "The kitchen is the heart of the home."
Have you dreamed of designing your own celebrity-inspired kitchen but don't know where to start? Then you have come to the rite place. When I bought this condo, the room I wanted to tackle the most was the kitchen as it is truly the heart of the home. I love cooking and wanted to create an elegant and modern kitchen that is like an oasis. I had to accomplish my vision of a Kim Kardashian worthy kitchen on a not so Kim Kardashian budget and I loved every minute of it. There are truly so many great home products out there these days that don't break the bank which I will be sharing the link to! 
 
Designing your modern kitchen
When it comes to cabinets in a modern kitchen, stick to flat-faced. This will give you a stylish look instantly. Also, you can just skip the draw pulls and install the soft touch mechanism, which prompts your cabinets to open with a slight push inward. 
An all-white stone is dull and overplayed. Choose something with dimension to prevent your modern kitchen from being too stark. I chose a quartzite stone. 
Soften the harsh lines of a modern kitchen with some rounded shapes seen here on my island and bar stools. 
If the design style "organic" appeals to you, add in some wood slap detailing seen applied around my island.
Natural, medium-toned wood or wood-like flooring is in and will not go away. I chose a medium-tone luxury vinyl. 
click photo to shop 
Choosing stools that were stylish and comfortable was a challenging task. For starters, I like stools to always have a back, even if it is low. Also, they need to provide enough comfort and padding, or I will want to avoid sitting on them. When I saw these stools, I knew they were perfect for the space instantly. They were a bit of a splurge; however, stools are relatively expensive in general. 
Choosing your appliances
I chose panel-ready appliances for my fridge and dishwasher so I can cover them with the same panels I used for my cabinets. This creates a clean look, and most modern kitchens use this method. The downfall of panel-ready appliances is that they are more expensive than traditional appliances. However, it is worth the cost if you want the custom look. 
For my stove, I chose the cafe model with a double oven. The double oven was not my first choice, but it was available during a low-stock period. It worked out for the better and I definitely recommend a double oven as you can cook food in different temperatures at the same time. I am obsessed! 
You can go a few different ways for doors that will need pulls, like your refrigerator and dishwasher. One option is to choose a pull that is vintage or "retro" in look and feel. I went that route as I love a vintage touch. Click the image of my refrigerator below to shop my fabulous allied brass pulls. The other option for door pulls for your modern kitchen is a very simple, rectangular pull. Gold or silver is always lovely, and even black has been popular these days (which is not as glamorous, more industrial/rustic vibe). 
Make it rain
The faucet in your modern kitchen should always match the door pulls. I was so happy when I found this faucet because the lookalike version I found in the stores ran for about 3,000.00. Mine is from Wayfair, and although a different brand than the pulls, it is the same finish of brass called polished and only cost me 200.00. Polished brass is going to be your more shiny brass, while brushed brass is going to be less shiny and more dull. When you purchase your hardware, pay attention to the finishes to make sure they are consistent.  
Another tip when purchasing your faucet is to ensure it comes with a hose (seen here on the right) if the faucet head is not detachable. This will make it a lot easier to clean your dishes, vegetables, and fruit. 
Originally the refrigerator was in this small and odd space, and the kitchen did not have a pantry. My design solution was to move the fridge and use the weird space to create a pantry. Inside the pantry, I hid the microwave as I do not like the look of them. Above the microwave, I organized the dried goods in bins, a method I learned while binge-watching "The Home Edit" (thanks, ladies)! 
Modern Kitchen Accessories 
You only realize how many accessories you need (or want) for your kitchen once you start cooking a ton. From cutting boards to mushroom-shaped martini glasses, the options are endless when curating your aesthetically pleasing kitchen. I hate to admit it, but I find a lot of my on-budget kitchen accessories on Amazon. To help you curate your home with these items, I have built a home list of products on Amazon which you can access below. 
Happy shopping!
Thank you for stopping by the blog today. I would love to know what you think of my kitchen! Leave a comment below and let me know your favorite part, or ask any questions you may have!