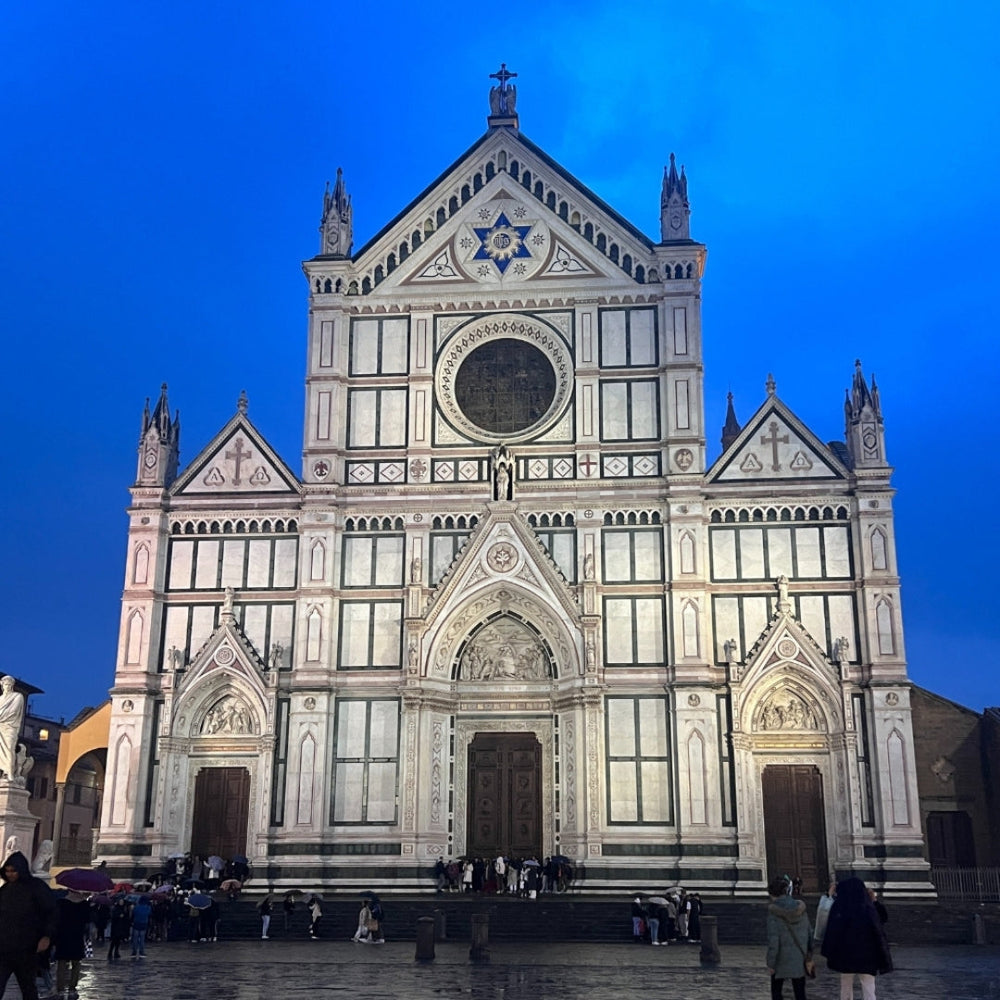 Florence, Italy
I had the honor of traveling to Florence, Italy, for work in February of 2023 and really admired this city. For starters, I saw the infamous David statue IRL among many other great artworks. I also did not expect the shopping to be as good as it was. I mean, being able to shop inside a Luisa Via Roma store when I have only ever been able to shop on their website was the most awesome time of my life - ever! Aside from art and clothing, the architecture was stunning, and I liked how walkable the city was. Accompanied by my lovely co-worker, who also loves to look at pretty things, our trip was a 10/10 and I would definitely visit this city again. Below, enjoy some of my favorite spots in Florence, Italy!
1. Gucci Garden
Gucci Garden in Florence, Italy, is a visual dream. The location consists of a Gucci museum on the top floor and a small Gucci store filled with unique Gucci items on the ground floor. The museum is entertaining to walk through as it has different rooms with Gucci products, videos, and props. I felt as though I was on a music video set! What a great find in the heart of Florence. 
Gucci Osteria is next to the store and museum and is a very pretty restaurant that we did not get to dine at (no reservations were available). Altogether, it was amazing to see such a fun celebration of the Gucci brand, and if I were to go back to Florence, I would definitely go back to Gucci Garden! 
2. Salvatore Ferragamo Museum in Florence
Dedicated to the history of the Ferragamo brand, the Ferragamo museo is not a destination to miss. This exhibit has beautiful archive shoes and fashions from this iconic Italian brand. It is also rich in history, and I learned a lot about the rise of women in the workforce from the 50s to 60s. The exhibit is located below the store, so you can view their latest collections after your museum visit. You may even encounter a Ferragamo family member like we did while visiting! Apparently, the family lives in Tuscany and visits the store often. Prior to visiting their store in Florence, I was not 100 percent up to date on the Ferragamo brand which really has some special pieces. A 10/10 experience! 
3. Where to stay in Florence
When visiting Florence, I definitely recommend staying near the Duomo di Firenze. Staying near the Duomo was great because we were a quick walk to everything we wanted to see, from the statue of David in one direction to the Ponte Vecchio in another. We were also near high-end stores such as Prada, Luisa Via Roma, Gucci Garden, and Chanel. I did not get in a cab once in Florence, which is my ideal situation! 
Hotel Recommendation: I enjoyed staying at the Hotel Calimala. It was chic, the rooms were spacious enough, the staff was friendly, and there was even a lounge with a projector playing black and white movies (which I love). For how great the location was in Florence, I was surprised that it was priced relatively inexpensive (although the rates do fluctuate in the summer). 
Me and Marissa by the Ponte Vecchio
The infamous David
4. Restaurant Recommendations
Being gluten- and dairy-free, and plant-based in Italy can be (extremely) difficult at times, but Florence really surprised me with how much it had to offer me. We tried a mix of "trendy" restaurants and classic Italian spots with gluten-free offerings. Florence was definitely a meat-heavy city, but I was delighted to find fish and gluten-free pasta on several menus.
Recommendations:
La Menagere: This spot was my favorite and a definite must-see. It is as pretty as the food is good and is a flower and home shop in addition to being a beautiful restuarant.
Ristorante Ciro & Sons: Great for gluten-free pizza.
La Giostra: A quaint, well-known spot with a delicious Italian menu.
San Lorenzo Market: A must-see. There is a vast food market on the first floor and a food court-like atmosphere on the second floor, including a bar and TVs. Great casual hang-out spot with all types of food for any cravings!
Rooster cafe: Great for an iced coffee. I happen to kind of hate typical Italian coffee (I'm too American for it, LOL), but this spot really delivered! Their breakfast was great too!
La Giostra
La Menagere
La Menagere
5. Other things to do in Florence
Besides the infamous Ponte Vecchio, where you can buy a beautiful (and expensive) piece of jewelry, Florence has a lot of things to do and see. I was there for a week for work, but you can experience the best of Florence in about 3 days. Here is a consolidated list of some other sports to check out.
Things to do and see:
Accademia Gallery: This is the art gallery where the infamous David is. Pro tip - buy your tickets for the exhibit across the street from the museum instead of waiting in line.
Uffizi Gallery: You will need a more extended time slot here; it is very large but beautiful!
Basilica of Santa Croce
Duomo di Firenze
Babae Via Santo Spirito: The infamous wine window.
Piazzale Michaelangelo: Offers the best view of Florence.
Patrizia Pepe: Their retail store is beautiful and this designer originated in Florence. If you are looking for a unique piece of clothing, check it out! 
As mentioned before, the Luisa Via Roma store is a must-see for pretty, designer items. 
Basilica of Santa Croce
Leave a comment