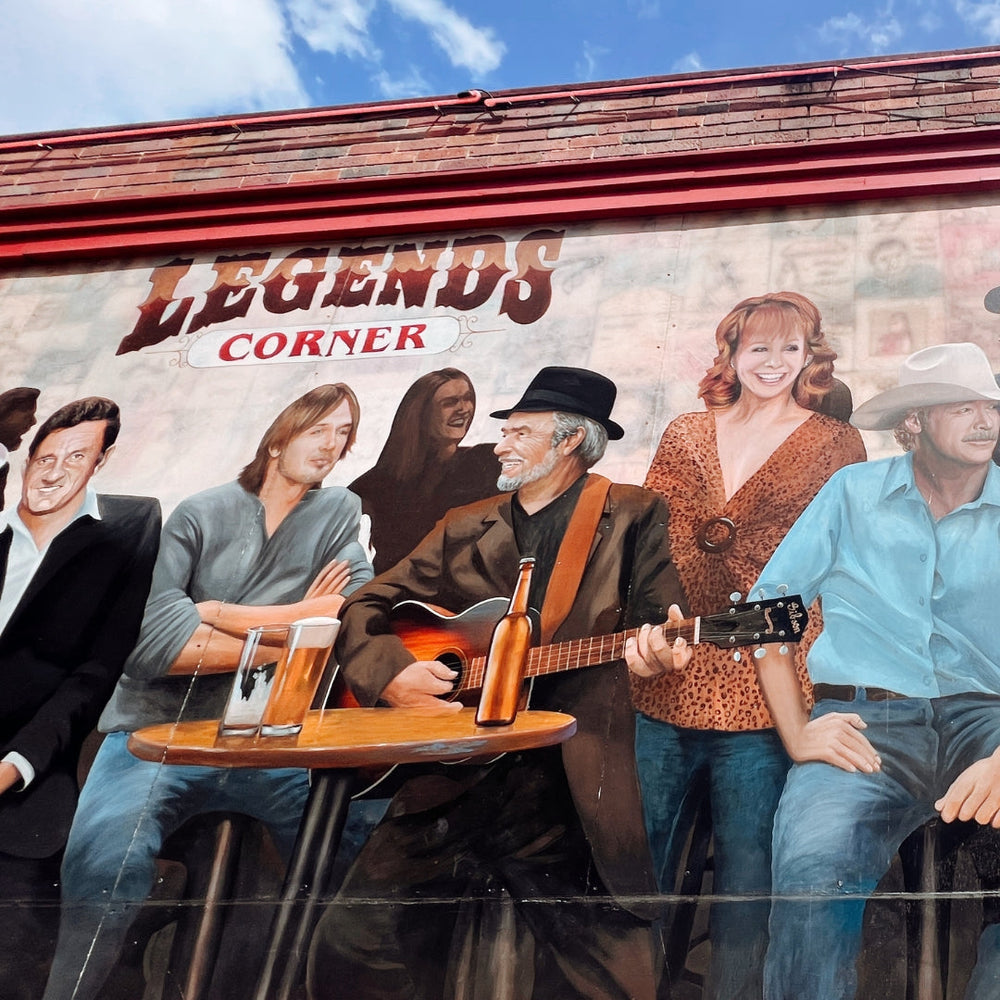 A Grand Ole time in Nashville
In September, I visited Nashville for the second time with my sister, Dad, and stepmom. The first time I had gone was for a bachelorette party a few years ago, so it was nice to go back and not be drunk the whole time (although that was fun!) Known for its vibrant music scene, Nashville is a great city to visit for a quick, fun trip. Whether you are heading there for a bachelor or bachelorette party or simply to get away, here are some spots you should check out! 
1. Where to eat in Nashville
As Nashville becomes a more popular travel destination, the food scene is booming with it. When I plan a trip, I like to shape the day with food reservations that can always be canceled if needed. That way, I can secure that if anything, we will at least enjoy some really good meals ( I guess that is the Italian in me). I did a lot of research on restaurants, so I am going to list them all so that way you have plenty of food options for your trip to Nashville. Bon Appetite! 
Drusie & Darr: Located inside Nashville's iconic Hermitage Hotel, this visually stunning restaurant offers a refined experience with delicious food. 10/10 would recommend it, especially for a boujee bachelorette party!
Jason Aldean's Kitchen: Offers tasty American food paired with talented live musicians!  
Chauhan Ale & Masala House: A vibrant eatery serving Indian cuisine. 
Pinewood Social: Great for brunch, and has a bowling alley inside!
Butcher & Bee: Seasonal, Mediterranean-inspired cuisine. 
Skulls Rainbow Room: For dinner with a Jazz show!
For hot chicken: Try Hattie B's or Princes Hot Chicken Shack.
For a quick bite: Check out the assembly food hall at Fifth and Broadway. It's a modern food court atmosphere with about 30 eateries, bars, and three stages! One of my favorite spots in Nashville, TBH!
Drusie & Darr 
2. Nashville Bars or should I say Honky Tonks
The awesome part about the bar scene in Nashville is that most of them have live music with some really talented artists! Although it is known to be a city of heavy partying, I still enjoy the bar scene there even though I don't really drink alcohol anymore. Here's a list of some of my favorite bars in Nashville:
Ole Red: Owned by Blake Shelton, I loved the low-key vibes the rooftop had. 
Tootsies Orchid Lounge: One of the most famous bars in Nashville.
FGL House: Also loved the rooftop here. 
Barstool Nashville
Harriet's Rooftop: For a sophisticated yet chill vibe. This is located at the top of the beautiful 1 Hotel, which is one of the chicest places to stay in Nashville. 
Nudie's Honkey Tonk
Scoreboard: About 20 minutes away from the center of this city, this dive bar had great music and cheap drinks! A hidden Nashville gem. 
Ole Red
3. Shopping in Nashville
If you need a break from the music and bar scene, check out the various boutiques Nashville offers! I found the shops to be trendy, cute, and fun. You can definitely find something for everyone in the shops here. Here's a list of some of my favorite shops in Nashville:
Kittenish: Owned by Jessie James Decker, this is an excellent place for a photo op and buying something cutesy and feminine! 
Uncommon James: If you are a Kristin Cavallari fan, visit her jewelry and lifestyle goods store, Uncommon James. 
Draper James: For a more refined vibe, check out this store owned by Reese Witherspoon. 
Rustler Hat Co: You can customize your own Western hat here! (Prices start at $175.00)
Apple & Oak: For home accessories. 
Betty Boots: For ladies' western boots.
Parish: Very pricey but has some pretty fashions. 
Fifth and Broadway: There is a thrift shop there that has a bar inside! 
Rustler Hat Co
4. Where to stay in Nashville
Finding the perfect hotel is one of my favorite parts of any trip. When looking for a place to stay, I like to make sure the location is on point, they offer food and especially room service (late-night french fries, anyone), the aesthetic fits my taste, and it looks clean. Here is a list of Bri approved hotels in Nashville: 
1 Hotel Nashville: Where nature is home. We stayed here during my last trip to Nashville, and I LOVED it. My favorite parts? The rooftop, the earthy aesthetic, the yoga mat in my room, and the body lotions are amazing! 10/10 stay! 
The Hermitage Hotel: I would like to stay here next time. It is the most iconic hotel in Nashville and is super ornate! This is the perfect hotel for a swanky wedding or event. 
Graduate Nashville: I would also love to check this place out. My sister has stayed here, and she loved how playful the decor is. It also has a rooftop that looks like a great place to hang out. Perfect for a bachelorette party or girls' weekend! 
The Russell: Formerly a church, this place has a retro, fun design. 
Southhall Farm & Inn: Located 25 miles south of Nashville in Franklin, this is a great place to stay to experience the nature that Tennessee has to offer while still being able to pop into Nashville. I would love to visit this place and stay in one of their aesthetically pleasing cabins! 
The Hermitage Hotel
Leave a comment